Hello all,
I am trying to diplay with forms.SelectFromList.show the list of FamilyType Name. (in this instance the doortags) like the following:
listOfTag = DB.FilteredElementCollector(revit.doc)\
            .OfCategory(DB.BuiltInCategory.OST_DoorTags)\
            .WhereElementIsElementType()\
            .ToElements()
             




selTag = forms.SelectFromList.show(
            listOfTag,
            multiselect=True,
            name_attr = 'ToString',
            group_selector_title='Sheet Sets',
            button_name='Select Sheets'
            )

what I am getting is the object itself. like following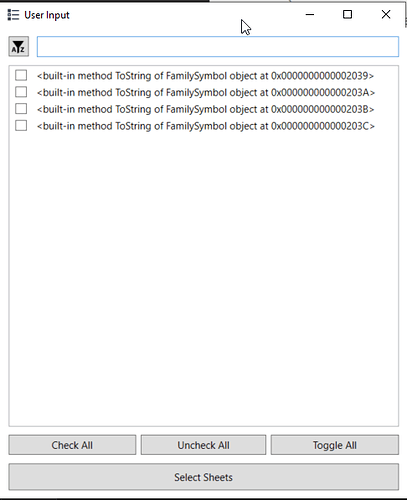 how can I get the that family type name amI Doing something wrong with the FilteredElementCollector?
Has anyone faced something like this?
thank you,
Gian Claudio S.