Hello pyRevit Friends

I have a hook script that loads a bunch of families into the project, creates some types for System families, etc.
Now I want to give the user the ability to decide if he wants to run this script, don´t run the script or never run the script. So i pretty much want to build something like this window we all know: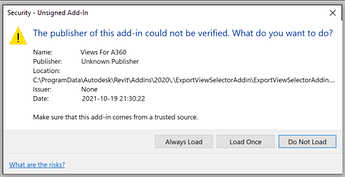 This should be user specific and project specific. So my code has to remember if a user already used it once in this project or if he clicked on "never run", so it won´t run (again).
My only idea to do this is to write to a csv file and later read it to get my desired information. The only problem i see is that project names may not be unique…
Is there any other method for my task? Happy about any advice

kind regards!